---
Nikita Koshkin - Composer & Guitarist
---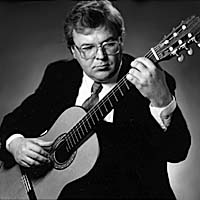 Composer-performers who write primarily for their own instruments plow furrows narrow but deep. Paganini pushed back the technical limits of the violin, gaining for the instrument a new range of musical possibilities. Chopin's music unleashed the expressive potential of the piano to the great profit of later composers. The ambition of the Russian composer-guitarist Nikita Koshkin in writing music for his instrument has been twofold: to expand the vocabulary of effects on the guitar; and, more importantly, to develop means to incorporate these into musical expressions.
Born in Moscow in 1956, Koshkin recalls liking the music of Shostakovich and Stravinsky at age 4. His parents planned a diplomatic career for young Nikita, however, and until he was 14, rock was his only musical interest. That year, his grandfather gave him a guitar and a recording by Segovia, and his life was changed. Composing for and playing the guitar became his double passion, and he went on to study guitar with George Emanov at the Moscow College of Music, and with Alexander Frauchi at the Gnesin Institute (Russian Academy of Music), where he also studied composition with Victor Egorov. Koshkin's composing profile gained international stature in 1980, when Vladimir Mikulka premiered his suite for guitar, The Prince's Toys. Koshkin's music, which includes scores for guitar ensembles and works for guitar with other instruments and the voice, has since been performed by artists such as John Williams, the Assad Duo, and the Zagreb and Amsterdam Guitar Trios. Koshkin is also an active concertizer, with tours of Russia, Central and Western Europe, Great Britain and the United States to his credit. His first CD was made in Arizona through Soundset Recordings while he was in the United States in 1997 as a featured artist of the Guitar Foundation of America International Convention in southern California.
Kenneth LaFave
Frank Koonce, guitarist, has achieved international acclaim as a performer, teacher, and writer. He holds degrees from the North Carolina School of the Arts and from Southern Methodist University, Summa Cum Laude, and was a Fulbright scholar and performer in Italy.
Mr. Koonce's creative output includes a highly-celebrated guitar edition of Johann Sebastian Bach's complete solo lute works and the world-premiere recording in English of Mario Castelnuovo-Tedesco's "Platero and I" for narrator and guitar. He recorded another album entitled "A Southwest Christmas" with the Phoenix Bach Choir. As a founding partner of Soundset Recordings he has helped produce other classical compact discs, including symphonic works performed by the Russian Federal Orchestra of Moscow, a premiere recording of works by Alan Hovhaness with the KBS Symphony Orchestra of Korea, and the first recording of renowned Russian composer-guitarist, Nikita Koshkin.
A Professor of Music, Frank Koonce has directed the guitar program at Arizona State University since 1978. He was Director of the Guitar Foundation of America International Convention 1987 and now serves on the GFA Artistic Advisory Board. Recent performances have taken him to England, Korea, Macedonia, Taiwan, Costa Rica, Mexico, Spain, and throughout the United States.
---