The Triangle Guitar Society is excited to present an outstandingly gifted and unique classical guitarist –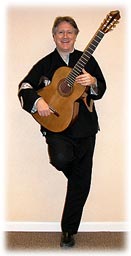 Benjamin Verdery
January 28, 2006 –
At the Carrboro Century Center
$22 Gen. Admission $16 TGS Members
An extraordinary performer, composer and teacher, Verdery will present a program ranging from J. S. Bach to Jimi Hendrix.
* * * * *
Benjamin Verdery, described as "an American Master", has been appointed Artistic Director of « Guitar » at 92nd St Y in New York City; he is Artistic Director of the annual Guitar Class in Maui; and is Head of Guitar at Yale University. Benjamin Verdery and Andy Summers (formerly of The Police) performed the successful world premiere of Ingram Marshall's Dark Florescence: Variations for classical and electric guitars and symphony orchestra at Carnegie Hall in February 2005. Verdery also tours with Ufonia, Schmidt/Verdery Flute and Guitar Duo, and Bill & Ben.
Verdery: A truly astonishing performer
Benjamin Verdery has performed all over the world. He has recorded and performed with such diverse artists as Frederic Hand, Leo Kottke, Paco Peña, and John Williams. He has had several composers write music for him, including Daniel Asia, John Anthony Lennon, Ingram Marshall, Anthony Newman, Roberto Sierra, Van Stiefel and Jack Vees.
His recordings include: Bach: Transcriptions for Guitar (GRI); The Mask (New World Records) performing Castelnuovo-Tedesco's Romancero Gitano, Op. 152 for chorus and guitar; Reverie: French Music for Flute and Guitar (Schmidt/Verdery Duo, Sony Classical); John Williams Plays Vivaldi (Sony Classical) performing Vivaldi's Concerto in G Major for Two Mandolins; Some Towns and Cities (Sony Classical), Ride the Wind Horse: American Guitar Music (Sony Classical) and The Enchanted Dawn (Schmidt/Verdery Duo, GRI). Ben just released the recording Start Now for Mushkatweek Records. Brotherhood of the Grape with Andy Summers is soon to be released.
Verdery: A prolific composer
Benjamin's Scenes from Ellis Island, for guitar orchestra, has been extensively broadcast and performed at festivals and universities in America, Canada, New Zealand and Europe. The Los Angeles Guitar Quartet performs it on their CD Air and Ground (Sony Classical). Many of his chamber and solo compositions have been performed and published in recent years. Verdery won the 1992 Best Classical Guitar Recording in Guitar Player Magazine. The following year, Benjamin Verdery founded his own band Ufonia, composing music for guitar, flute, oboe, bass, and percussion. And in 1996, John Williams recorded Mr. Verdery's duo version of Capitola, CA for Sony Classical.
Verdery: A master teacher
Since 1985, Mr. Verdery has been the chair of the guitar department at the Yale University School of Music. Benjamin Verdery is in great demand as an instructor, teaching classes at the Paco Peña Centro Flamenco in Córdoba, Spain, the Classical Guitar Festival of Great Britain at West Dean, England, the National Guitar Summer Workshop in Connecticut, and his annual summer master class on the island of Maui, Hawaii.
Mr. Verdery will conduct a masterclass
at Duke's Biddle Music Building from
3:00 to 6:00pm. Call 490-1920 for more details.
Here's what other's say about Verdery's teaching ability
This was a great day led by a master teacher, patient, sensitive, musical, funny and wise. CLASSICAL GUITAR – ENGLAND
Here's what other's say about Verdery's musical artistry
Mr. Verdery seemed to have all the talent and skill to put him in the first rank of today's guitarists. THE NEW YORK TIMES
This is unquestionably the finest playing of Bach I have ever heard on six strings. If it's the only recording you buy this year, you shouldn't regret it; if it isn't, it should be one of them, no matter how few they may be. GUITAR MAGAZINE (Bach Guitar Transcriptions)
I never realized that Bach could sound so good; this was the best performance of Bach I have ever heard. Terence Choo, CLASSICAL GUITAR ­ ENGLAND (2002)
Enthusiasm, heart and great musicianship, we are all the richer for the artist currently known as Ben Verdery. CLASSICAL GUITAR - ENGLAND
Here is a musician who knows what he wants and where he wants to go, and has the fiery technique to get him there. This kind of music making is exhilarating. ST LOUIS POST-DISPATCH
Appropriately, his program looked like this: Prince and Jimi Hendrix - next to Bach and Janacek, next to his own compositions. BONNER RUNDFSCHAU (Bonn Germany)
Benjamin Verdery is without a doubt a great guitarist possessing an astonishing technique. CORDOBA TIMES (Spain)